sustainable home
Earth-Loving Technology in Place
Solar panels on the house and barn See realtime energy production stats here and graph below
Solar panels on the barn – 59,277 MWH produced over 11 years and running strong
Composting (food and yard waste – it's a huge pile!)
Owners keep a pescatarian household and encourage renters to do the same.
Energy-star appliances
Energy-efficient mini-split (heat pump) units for HVAC.
(Split units were determined more appropriate due to lack of ducting, after consideration of open- or closed-loop geothermal heat. Electric car recharge station should be supported also.)
FUTURE eco-projects
One+ Installations Annually
Install Level 2 EV Charger for guest EV recharging.
Anticipated 2023
Replacing current gas stovetop with induction heating units.
Anticipated 2024/5
Replace propane heating unit in man cave with high-efficiency electric.
Anticipated 2026/7
Replacing propane backup generator with house battery
Anticipated 2027/8
Replacing current oil hot water heater with condensing electric-based hot water heaters.
Anticipated 2028/9
Replace current septic with low-nitrogen septic system
Anticipated 2029/30
SOLAR ENERGY PRODUCTION
Geek out on our numbers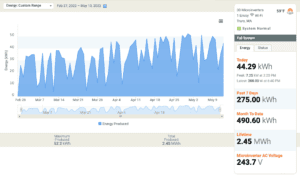 OUR ECO-HOME STORY
Pragmatic environmentalism and a whole lot of fun
Acquiring the Little Pamet House was the first time we had owned a building on land, the first time there was a real opportunity to envision and enact environmental change in a direct manner on a specific property, thinking long-term and applying theoretical approaches to the situation at hand. The house came with a number of improvements in place, particularly double-pane windows as the vast majority and the installation of south-facing solar panels in 2010 (very ahead of the curve!) The approach has been guided by a pragmatic environmentalism, looking to the natural replacement cycles of existing equipment and prioritizing the most impactful improvements first then moving down the line. A rough timeline of one major improvement per year was penciled in to keep budgets in line and it has been going great so far.
The two biggest projects to date have been first to expand the solar panels by adding a new array on the house. These are larger in overall area and carry a higher efficiency rating than the prior panels and the combined impact in kWH is significant, and for some time we were running an electrical surplus on production vs. usage. Following on from this, we've installed air-pump HVAC mini-split units throughout the main house for both A/C and heating in the winter to directly utilize the electricity generated and reduce reliance on the oil-based heating system (at a higher overall MMBtu efficiency rating for heating and cooling). We've also added window film to better insulate the kitchen during the summer while retaining the beautiful view of the yard and forest.
Future projects include an EV charging station, replacement of the stoves with induction stovetops, upgrading the backup propane generator to a house battery, investigating a full replacement of the oil heater with a high-efficiency electrical heater, and upgrading the septic system to a low-nitrogen system. We don't generally run net-zero or carbon-neutral analysis but rather try to find the projects that are the best impact for the investment and most technologically appropriate to the situation and steadily implement them with care and thought.
It's been a fun process and we look forward to continuing the journey!